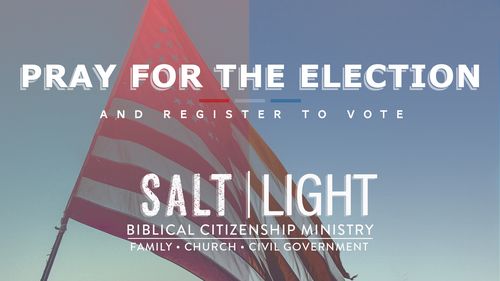 SALT & LIGHT is a Biblical Citizenship Ministry that exists to help educate and equip Christians in matters of family, church and civil government. We have Quarterly prayer & action meetings to discuss current hot topics and how we can engage the culture and protect our Christian Liberty. We offer opportunities for voter registration & provide non-partisan voting materials during election years.

The quarterly meetings are @ 2pm on the 2nd Sundays of: January, April, July & October


During the last election, a large number of people that came into our voting poll were surprised to see their voting preference had been changed without their knowledge (party preference and/or absentee voting), therefore we highly recommend you check your current status even if you hadn't planned on making any changes.

*If you need to change your Name, Address, or Party Affiliation, you will need to re-register. Please go to the link below if you live in San DiegoCounty, or pick up a voter registration form in the Church Office Monday thru Friday 9am-3pm.