As iron sharpens iron, so one man sharpens another.
HOME FELLOWSHIPS - ARE BEING DONE REMOTELY UNTIL FURTHER NOTICE.
Contact TK for more info on how you'll virtually connect.
Home Fellowships are essential to the health of any church body or individual Christian. They are a place where people can experience true community and biblical fellowship. These smaller groups are a great place to discover your spiritual gifts, as well as providing an environment to start utilizing them. We believe Home Fellowships are the best environment by which a person can begin to take steps towards living out the Calvary Chapel Oceanside vision which is to "Love God, Love Each Other, and Spread His Love". Home Fellowships are also a safe place to invite those to come hear about Jesus and see saints in action living out His word.
Training for Home Fellowship Leaders
Meet in the CCO Courtyard under the Canopy at 7pm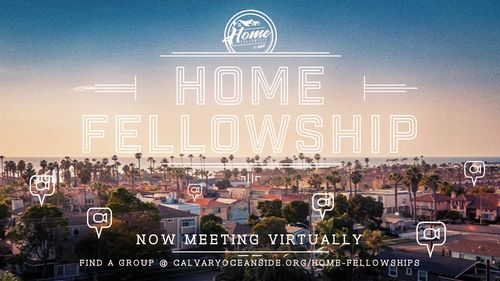 We'd love to get you connected to a small group in your area. Fill out the form below to get started.
Get Connected!
home fellowship sign-up anytime!


Home Fellowships help people grow in their faith and build community. Our groups take place throughout the week in different neighborhoods, so use this form to find a group that's right for you. We'd love to have you join us!