Marriage is one of God's most beautiful creations and is given as a picture of Christ's sacrificial love for the Church. I know a place where I am forgiven when I make a mistake, a place where I belong, it's called the Family.
FAMILY & MARRIAGE CLASSES WILL BE ONLINE DURING THE VIRUS.
REGULAR CLASSES ARE POSTPONED UNTIL FURTHER NOTICE.
Get updates and connect virtually by following us on
FACEBOOK
.
Marriage Bootcamp with Dan & Nicole Leitz

Marriage Retreat
Oct 9, 4pm - Oct 11, 12pm

Get away with your love in enchanting Palm Springs on October 9-11th! We will be staying at the quaint Andreas Hotel & Spa. Special guest speakers will be our very own, Senior Pastor Dan & Nicole Leitz. CCO has the entire hotel to ourselves, so it will be an exclusive 2-night weekend with breakfast, meeting & materials, plus much more! **For those who have already registered for the "Love Blooms Retreat", your deposit & reservations are still valid.
$395 = Deluxe
$495 = Executive
$595 = Suite
$695 = Villa (2 room Suite)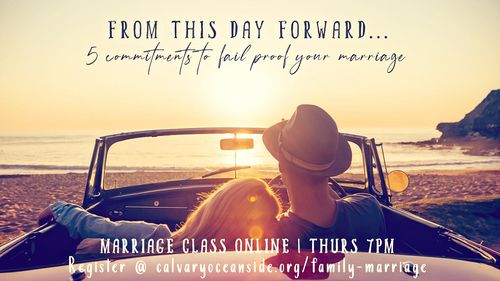 From This Day Forward - Marriage Class
Join anytime!Class will be August 20th - September 24th
Thurs. 7pm ONLINE
Family & Marriage Ministry is kicking off a new Thursday night couples study "From This Day Forward" by Craig and Amy Groeschel. Discover a richer, deeper, more authentic relationship and a more rewarding and passionate love life. Get the marriage you always wanted. Starting right now - from this day forward.
The class is free but you will need:
computer & internet access
Are You Called to Foster or Adopt?
Learn about fostering and adoption from an actual foster family.
Class will be August 18th - September 1
Tuesday 7:30 PM ONLINE
If you have ever thought the Lord might be calling you to foster or adopt a child OR you just want to learn more information about what it's REALLY like join us online Tuesday Nights as we apply biblical understanding and real-world experience to see if you are called to this important ministry.
Join Bill and Julie Davis to get all your questions answered as you take this journey with an actual foster family with Olivecrest.
The class is free but you will need:
Get Connected. Go Deeper.
Thursday nights 7 pm in the upstairs High School Room
Registration for classes and childcare available.
coming soon / Postponed until further notice
Couples Retreats, Date Nights, Family Camp, Financial Seminars, Love and Respect Conferences,
Marriage Builders, Marriage Mentoring, Pre-Marital Counseling, Young Marrieds, wedding coordinating.

we'd love to hear from you.
Click to get started.